A One-Stop Shop for All Your Security Needs.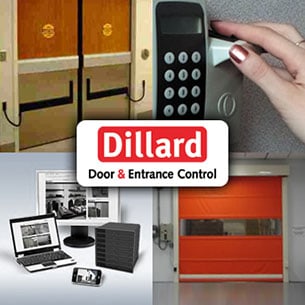 First established as a door company in the 1940s, Dillard Door has grown into one of the most successful security system providers in Tennessee today. In our 60-plus years of experience, we have earned a reputation for integrity, reliability and ingenuity. Simply stated, we do what we promise – and do it right.
Rather than selling "quick-fix" products, we help companies develop complete security solutions, installing everything from entrance gates to security cameras to complete Access Control Systems – anything you need to protect your assets and ensure total control of your facility.
No matter the size of your project, our goal is the same: to help secure your property, so you can focus on running your business. Our experience includes collaborating closely with property owners, architects and engineers and developing solutions for a wide range of commercial and residential applications, including:
Government facilities
Manufacturing plants
Warehouses
Office Buildings
Apartment buildings
Retail stores
Parking garages
Churches and schools
Non-profit organizations
Thanks to our vast and varied experience, we can apply our proven expertise to your project, bringing all of our skills to bear on your unique security challenges and integrating the very best products on the market today. For more information about our security solutions, please contact us with questions or call 901.775.2143 today.
Chris Bird, President of Dillard Door, speaks about his induction into the Society of Entrepreneurs.